Light Duty Scaffolds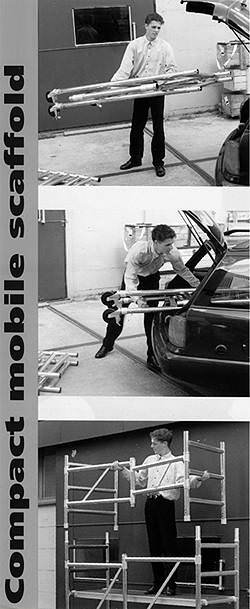 The ALSAFE foldable scaffold is your ideal partner when working at medium-high levels.
An efficient lightweight champion
Unfold the ALSAFE compact mobile scaffold, secure the hinge by pin, insert the platform and you are all set.
Frames are all made of light weight aluminum and the 23.3 " (60 cm) wide platform has a non-slip weather resistant deck. The complete unit weighs only 77lbs (35 kg). Measurements extended: 78.7″ x 28 x 75″ (200 x 71 x 190 cm).
All four large size 5.5″ (14 cm) swivel wheels with rubber tires have locks for safety and stability.
The compact size of the mobile scaffold enables you to move it from room to room through any doorway, while tools remain undisturbed on the platform.
When the job is finished, remove the platform and the scaffold is folded up into a manageable package on wheels. The two parts, base and platform, can then easily be transported in your service vehicle, pickup, station wagon or hatchback. In the shop they take up only little space.
A contractor's versatile mate
The ALSAFE compact mobile scaffold has 6 rungs allowing 6 different work heights. The max. standard platform height is 71″ (180 cm). Additional folding frames with 3, or even 6 rungs are available as an option, increasing the platform height to 104″ (268 cm) or even 170″ (432 cm). Outriggers are available for added safety at this work height, as well as platform with hatch enabling easy and safe climbing on the inside of the scaffold.
All these features make the ALSAFE compact mobile scaffold a most versatile mate for the contractor when it comes to getting jobs done in the interior or on the exterior of homes, schools, hospitals and industrial buildings.
Mobile Scaffolds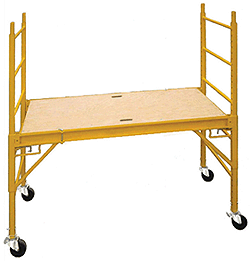 Model No. B100T
Height: 6′-0″
Width: 29″ Length: 6′-0″
Heavy duty spring activated locking system.
Tube construction, light in weight.
Can be stacked three units high.
Powder coat Yellow frame.
Model No. B100AL
The same design as B100T (made of aluminum).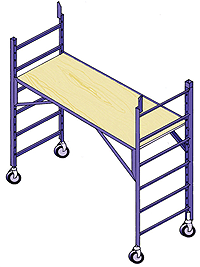 Model No. B100
Height: 6′-6″
Width: 30″
Length: 6′-0″
Adjustable height for the platform
Angle steel construction
Capacity: 700 lb
Powder coat navy blue frame

Mobile Wagons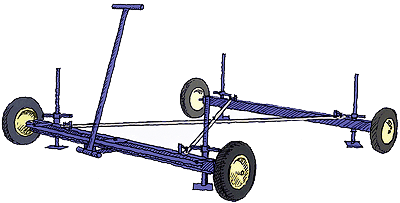 Mobile Wagon
Model No. MW100
Available in 7′ and 10′ Brace.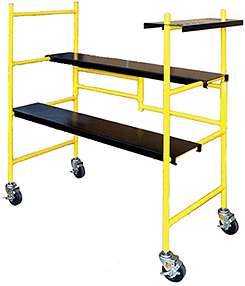 Mini-baker
Model No. MB100
Height: 4′-3″
Width: 1′-10″
Length: 3′-9″
Powder coat yellow frame.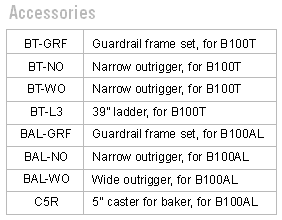 ---
Pulley Hoist

---
Sure Close® Self-closing Manhole Barrier
Sure Close Self-closing Manhole Barrier

---
Concrete Dump Box & Shipping Containers
Concrete Dump Box
All steel construction paint or galvanize to suit
Reinforced hooks for 6 point connection for crane hoisting
Heavy duty casters for maneuverability
10 cubic meter payload capacity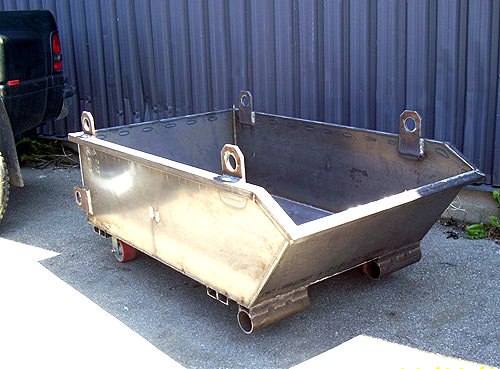 Shipping Containers
All steel shipping container.
Measures 48″ wide x 48″ long x 32″ high.
Fully stackable with self locating pins.
Panels use 14 gauge sheet steel.
Paint or hot dip galvanize to suit.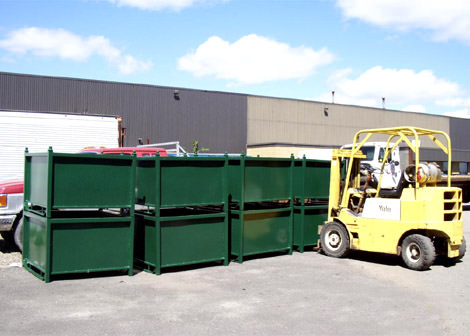 ---
Adjustable Base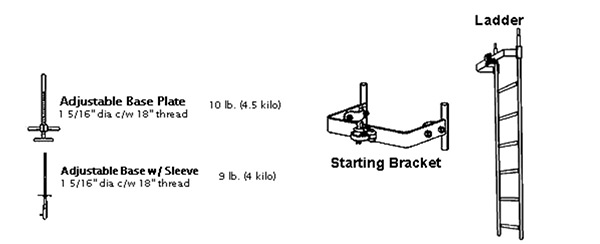 ---
Versa-Light Access Ladders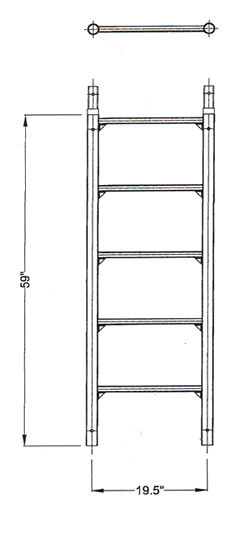 All aluminum Access Ladder
c/w serrated grip on rungs
various sizes available:
2′, 3′, 4′ and 5′
---
Safety Gate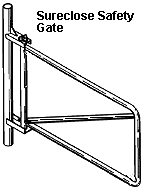 All materials galvanized
Two internal Spring Mechanisms all Stainless Steel to ensure long life
Left Hand & Right Hand Spring configuration allows for consistent swing operation and return to origin
1.9″ DIA Vertical attachment tube can be used in conjunction with tube & clamp or have Versa Systems mouth pieces for easy attachment to Versa Systems Scaffold Rosette
Gate length standard 31″ custom sizes available
Fully adjustable swing 4 point screw mechanism for precise adjustment top and bottom
All swing mechanism parts fully replaceable
Mills_ChainGate

SureCloseSafetyGate

---
Safety