Unique engineering offers versatility and strength for the Versa aluminum and steel systems.
The Mills all aluminum Versa-Lite systems scaffold is a completely original design. The components are made from 100% aluminum, a material which enhances the effectiveness of the system's patented geometries. The system minimizes welds in order to maximize capacity and sturdiness.
---
Alignment Ribs
Mills standards, sleeves and rosettes have internal and external alignment ribs to provide superior alignment and subsequent plumb and square of the scaffold unit.
Ledger Extrusion
Our unique aluminum Ledger extrusion is the component which provides greater strength at half the weight of a steel unit. Its serrated, non-slip top and bottom surfaces aid handling and prevents slippage of seated planks. The proprietary locking feature of the mouthpiece neck into the extrusion provides superior rigidity and alignment of the ledger/brace assembly. The ledger extrusion is also available with different connectors for non-rosette connections.
---
Elastic Mouthpiece
The high strength, elastic mouthpiece, available in aluminum or steel, uses a patented wedge pin with a reverse slope. The wedge pin engages the rosette entirely through its vertical surface, ensuring that the mouthpiece is Rear view of Rosette properly seated on the rosette while the wedge is engaged —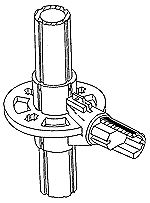 it will not rise up as in other systems.
The compression area of the mouthpiece connector is dramatically increased by reversing the lobes, thereby providing greater mass area at the bottom of the mouthpiece (below the rosette).
Adjustable Rosette
Mills is the only scaffolding system with an adjustable rosette for its aluminum standards.
---
Mills unique brace head consists of two parts: a cast connector attached by a solid plated steel 5/8″ rivet to a solid cast spade with a unique neck geometry. This assembly provides for a powerful brace assembly with our mating ledger tube extrusion.
---
Value-Added Technology Transfer
Manufacturers all over the world can take advantage of Mills engineering through licensing the technology to produce Mill's Versa Systems Scaffolding.
Horizontal and vertical members extrusions may be purchased locally.
Mills will supply economical automated welding technology and fixtures, for both aluminum and steel, for assembly of rosettes, mouthpieces and wedgepin.
---
Mills Credentials
The Mills System was engineered with support by the (Canadian) National Research Council for a finite element analysis in the design of the components, and by the (Canadian) Welding Institute for welding procedures and design of automated welding equipment.
The Ministry of Trade and Technology of Ontario supported Mills in filing foreign patents. The Mills Versa-Lite plank is endorsed for use at Ontario Power Generation Inc. Atomic Energy electric generating plants.
Mills employs a QAS Z299.4 = ISO 9003 (supported by the National Research Council of Canada).