Mills Versa System Scaffold has many advantages over conventional tube and clamp or frame scaffold.
Easy and fast to erect and dismantle Power Plant Boilers
More compact to store and ship
Greater versatility in and around scaffolded structures
All parts are strong and rugged, and when assembled provide for the stiffest scaffolding.
Mills Versa System Scaffold is available in both steel and aluminum. Both systems are interchangeable and compatible with other rosette systems as well as tube and clamps.
The aluminum Versa-Light system is a world first. Lightweight aluminum allows for quick assembly and disassembly, with less risk of worker strain. The aluminum system is both safer and more efficient.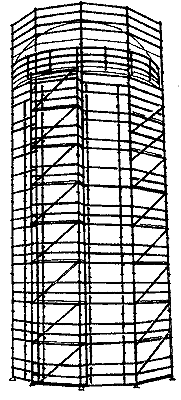 The Versa-Steel system is the low-cost alternative in modular scaffold systems. Since both systems are entirely interchangeable, aluminum versalite components can be incorporated into a Versa-Steel system readily. Mills Versa Systems Scaffold meets the demanding needs of the following industries:
Chemical, Petrochemical storage systems Petro/Chemical Refineries
Electric Generating Plants
Pulp & Paper Mills
Shipyards
Concert Stages/Grandstands
Industrial Maintenance
Aerospace Industry
System scaffold offers solutions for unusual shapes and configurations, such as auditoriums, arenas, athletic complexes, churches, malls, conventions halls, and wherever large platform areas or perimeter scaffold is required.