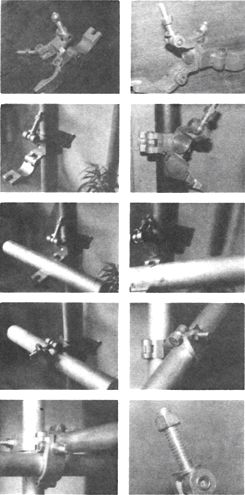 A revolutionary, patented, design, manufactured from high strength, heat treated aluminum extrusion. Having only one third the weight of steel, these couplers have the same strength and holding capacity of steel.
Available in all sizes and combinations.
A horizontal cradle was developed to enable one man assembly.
The VERSA couplers, when assembled at right angles to each other, are so perfectly fitted the tubes appear to rest against each other.
The bolt is equipped with speed thread for quick erection, and minimal maintenance.
All rivets and bolts have a 500 hr. salt spray test plating, compared to 75 hr. on competitive parts now available.
The 2 inch coupler was designed to hold an insert that will reduce it to 1 5/8 inch, thus eliminating expensive inventory.
Test result may be obtained from your distributor.
VersaLightClamps